Or more accurately, because I told my mom to suggest someone for tonight's post and Brienne (Gwendoline Christie) was her first suggestion.
And in the spirit of Brienne's new swank armor, I present: not-really-that-comfy-in-high-society modern Brienne trying to fit in in this weird celebrity culture AU world I've been working in this year.
This is a blazer.  Blazers aren't scary.  Blazers are businesswear.  Brienne can do businesswear.  It's just also fancy because of that shimmer, so it belongs here, too.  My Gleam Job Blazer, ModCloth.
Which has enough structural detail up top to be interesting, but will still mostly blend under the glitzy blazer.  Picture Window Top, ModCloth.
My initial impulse had been leggings (preferably leather) and a black short skirt, but these pants have enough interesting detail at the waist to do too.  Carefree Crescendo Pants, ModCloth.
And these?  These say "playing the game but not sacrificing comfort."  So.  Especially Splendid Boot in Black, ModCloth.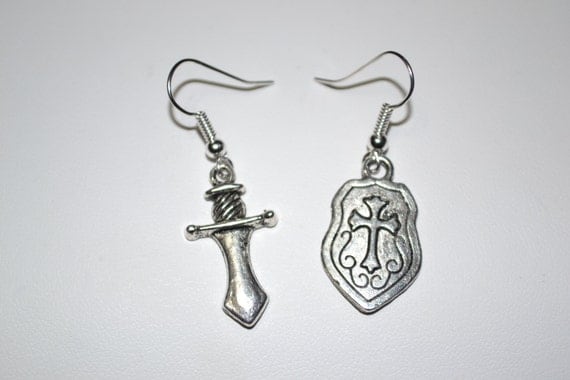 And these are just awesome.  Mismatched sword and shield earrings by MandaLynnCreations at Etsy.
–your fangirl heroine.