Xander (Nicholas Brendon): The trend of keeping Xander in blue continues.  Oh, Xander.
Giles (Anthony Stewart Head): A reliable, official-seeming gray suit.
Cordelia (Charisma Carpenter): That is quite orange!  Here, that possibly means "determination, attraction, success, encouragement, and stimulation."  With some dark blue, possibly for integrity.
Buffy (Sarah Michelle Gellar): Well, that's a romantic and nostalgic light purple if ever there was.  Interesting.  (This is also the outfit in some of the Buffy/Angel promo photos, and it makes sense given that context.)
Angel (David Boreanaz): For some reason, also reliable gray?  Despite the fact that he's almost always wearing black in the show.
Willow (Alyson Hannigan): Her color scheme is the reverse of Cordy's, though her dark blue is on top for emphasis; hers likely represents knowledge. Her pants are more red than orange, for danger, strength, and emotional intensity.
Oz (Seth Green): Healing, safe green, for some reason.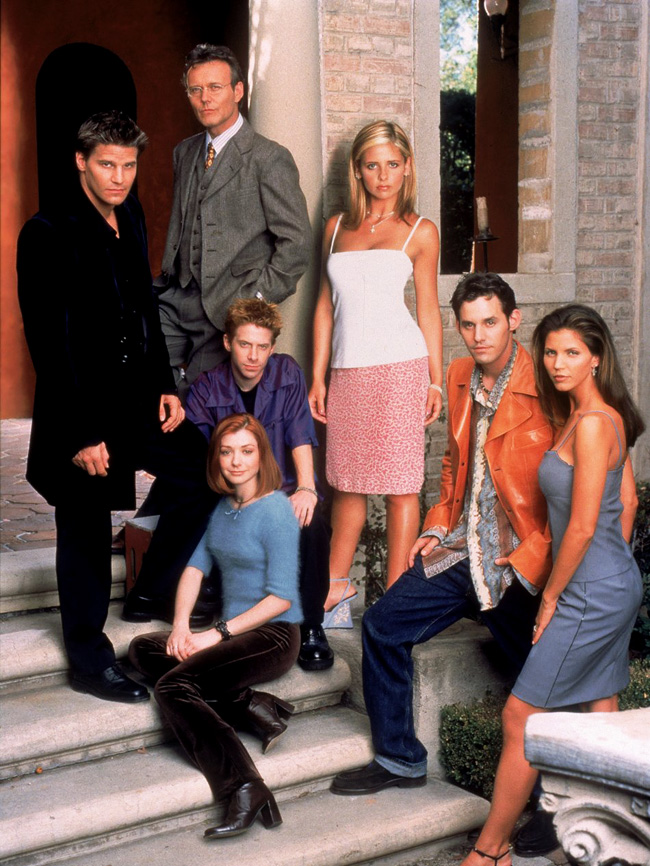 Angel: And now we're back to the dark, mysterious all black all the time Angel we know so well.  It's something of a comfort, really.
Giles: And Giles is never going to change.  All of the gray and brown suits all of the time.
Oz: "Purple combines the stability of blue and the energy of red," says Color Wheel Pro, and that sounds like a very accurate description of Oz.  Oz is a very stable dude, and though his "energy" is not in the traditional hyperactive sense, it is nonetheless vital.  (It could also be the energy of wolf-time Oz.)Willow: Blue for knowledge again, lightened for understanding, and brown for potential extra stability.
Buffy: Pure romantic pink, soft and feminine.  Using pinks and purples on Buffy is a contrast to what the viewers know about her, of course, since while Buffy is very "girly" in many ways, she also kicks ass in ways that silly people don't associate with femininity.  In this way, it's showing the multifacetedness of her.
Xander: Enthusiastic, fascinated orange feels much more like Xander's true personality, though there is still plenty of blue to contribute to the image he wants to present.
Cordelia: Light blue, in its softness-but-not-weakness, is much more Cordelia, too.
–your fangirl heroine.