Yeah, that's right.  It's come time for a giant ramble about dressing like my babygirl Bennett.  (Incidentally, while looking for pictures for this, I stumbled across a brilliant and fascinating article about Dollhouse and beauty that everyone should definitely read.)  I was definitely rocking pencil skirts and cardigans pre-Bennett's existence in my life, albeit less often, because I'm just that kind of person sometimes.  But Bennett… well, definitely got me doing it more.  Also because I'm just that kind of person.  And I just sort of have to dress like Summer Glau's fictional identities whenever possible.
The cardigan is of course essential.  And I may or may not have already owned this particular color; I think I got it in 2009, even?  (Another example of my useless vague psychicness.)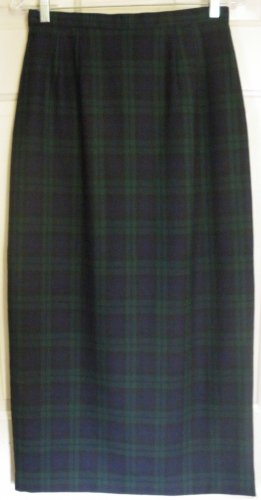 Really, any pencil skirt in a shade of blue, dark green, gray, black, whatever, will do.  But I couldn't resist Googling "blue plaid pencil skirt" and I couldn't resist how perfect this was.
(Damn you for being currently out of stock, perfect shoes for this concept.)  These are simple, straightforward, with a little bit of preppy edge.
And, of course, black tights are a must.  (Another reason I was doing this look anyway.)
I've never been able to make out exactly what Bennett's necklace looks like, so this is really more my looking through ModCloth and picking out one I liked.  It looks like it'd hit about right, and the charm, though small, was definitely detailed.  Also, I'd like to think Bennett would be the type to enjoy useful jewelry.
The red ones for doing Bennett (though I admit I am neurotic and since my pencil skirts do not have threads of red in them, I often opt for black).
(Now for the optionalish.)
Glasses are key.  I already had them, and I'm not saying go out and get glasses, but, y'know, if you've got, then this may just appeal to you.
Also.  Glasses chaiiiiin.  (I shamelessly will admit to having this exact one for my own self, and it was the greatest $12 I have ever spent.)
If you're into doing the neurotically perfect thing and, y'know, don't actually require a sling.  (As that is just a little much, kiddos.)
But if it's winter, or otherwise cold out, you can get away with gloves.
So.  Yes.  …hotdamndetails.
–your fangirl heroine.