I swear, I set out to do this straightforwardly.  I love me some vintage, after all.  And I legitimately like these outfits.
But then I started searching for a tan/gray plaid women's coat.  And I was… ridiculously stumped.  I found this, though, and it was one of those moments where I said "well, if I can't do it accurately, I'll embrace the hipsterness of it."  Open Heirloom Market Coat, ModCloth.
(Just ignore Ted.  It has been spectacularly hard to find decent pictures of… well, anyone this season, really.)  I put this here after I've already included the coat because the above picture doesn't include a shot of what's under Peggy's coat.
And this will work too.  Honeydew It Right Top, ModCloth.
And because it's hipster (and I'm pretty sure Peggy's original was a dress, but I couldn't find a dress I liked, so top and skirt, and I feel weird if both the top and skirt are just solid color and the same general color) birds on it.  Chatter and Chirp Skirt, ModCloth.
Well, hers doesn't have a veil, but this is still closer than much of the outfit.  Millinery Masterpiece Hat, ModCloth.
And I'm almost positive Peggy's shoes are kitten heels, but — these will do.  They match the coat nicely.  Craft Faire Flat in Cream, ModCloth.
But it's an open blazer!  It's… at least the right color, I sigh to myself.  Open Blazer, Eliza J.
But because it's open it can be worn with this familiar beauty.  (More hipster time!) Owl That and More Top, ModCloth.
And this skirt is pretty close, actually.  Style Essential Skirt in Blue, ModCloth.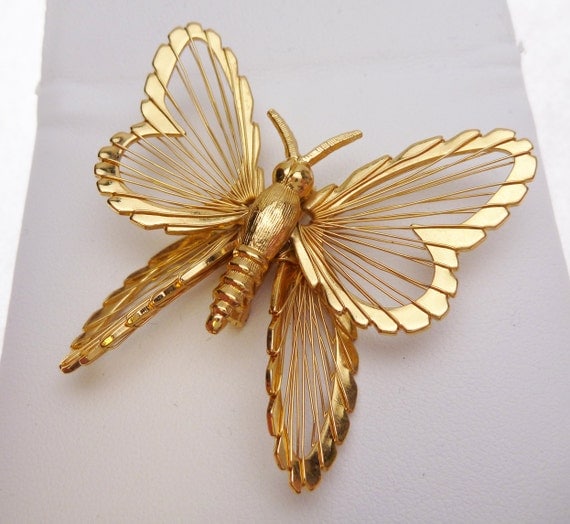 I don't think I can explain how happy I am that my Joanie is wearing a butterfly pin.  Monet 1960s Gold Tone Butterfly Pin, KlinesJewelry at Etsy.
I figured since I used this one for Joan before, I can use it for her again.  Hot on Your Helix Bracelet, ModCloth.
And because hipster pinup always seems to involve patent leather 4-inch Mary Janes in my mind, here.  'S Marvelous Heel, ModCloth.
–your fangirl heroine